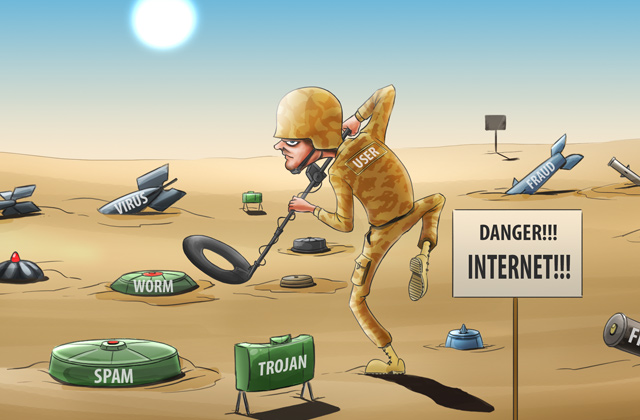 Security of a IT network and infrastructure is highly dependent on the end users. Hence it is very important that we, the users of the Mathematics IT space, use safe and secure computing practices while using our devices and networks. Safe computing practices involve employing a combination of physical and virtual security techniques to prevent malware from damaging the network and, in turn, our devices. Safe computing practices are important and vital to success of any modern-day organization, and user actions play a major role in that safety of IT infrastructure. There are some simple and extremely useful practices that anyone can follow for an secure computing experience. Math IT advises and encourages all the patrons and users to follow and employ these simple exercises.
It is very important that the computer you are using has an up-to-date operating system and software installed. Your operating system is responsible for running the device and an up-to-date OS can improve the security of both a device and the network. Having the latest software along with OS leads to higher compatibility and fewer chances of issues such as kernel panics.
Antivirus software is a very important aspect to security of a computing device. With the amount of data passing through computers, an antivirus software makes certain and enables people to keep malware at bay. NC State provides DetectX Swift for all users, and advises periodic computer scans and reporting any malicious activity or software back to IT.
It is essential to only use and download software from accredited sources. All users should make sure to follow policy and install only licensed software by legitimate developers. Mathematics IT recommends use of Self Service to procure all software whenever possible. Above all, the most important part of ensuring network safety is to communicate with your IT Department whenever there are any problems. Please don't hesitate to get in touch with the IT personnel. Please visit the website https://wp.math.ncsu.edu/it to contact the IT department and learn more about different aspects safely engaging in modern-day IT.